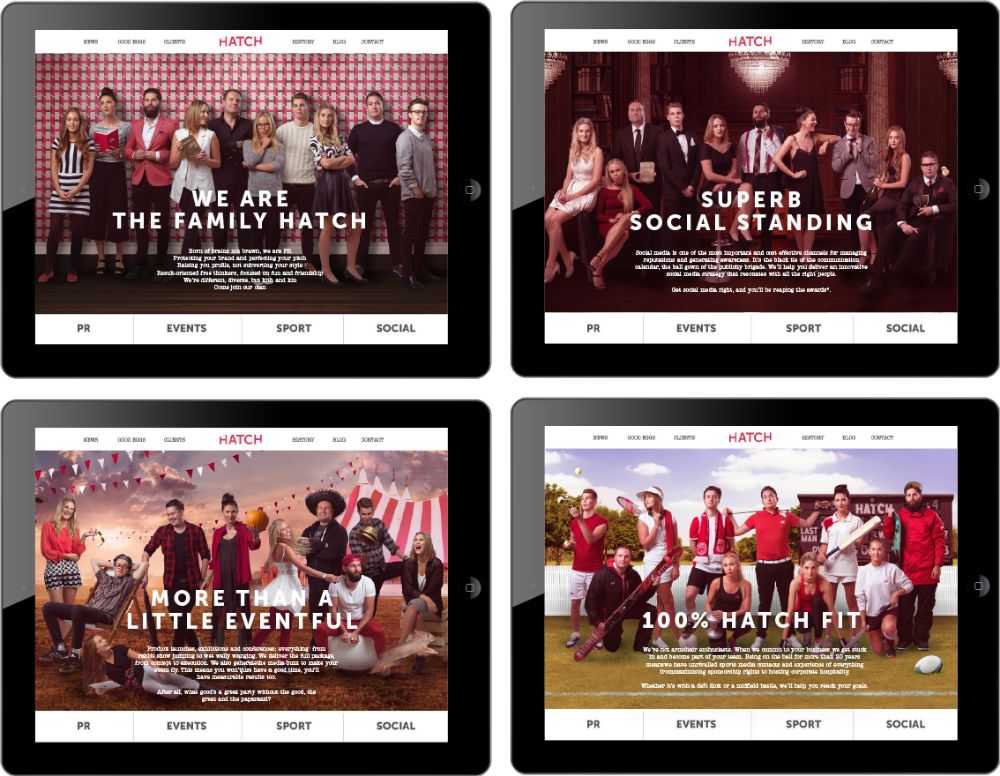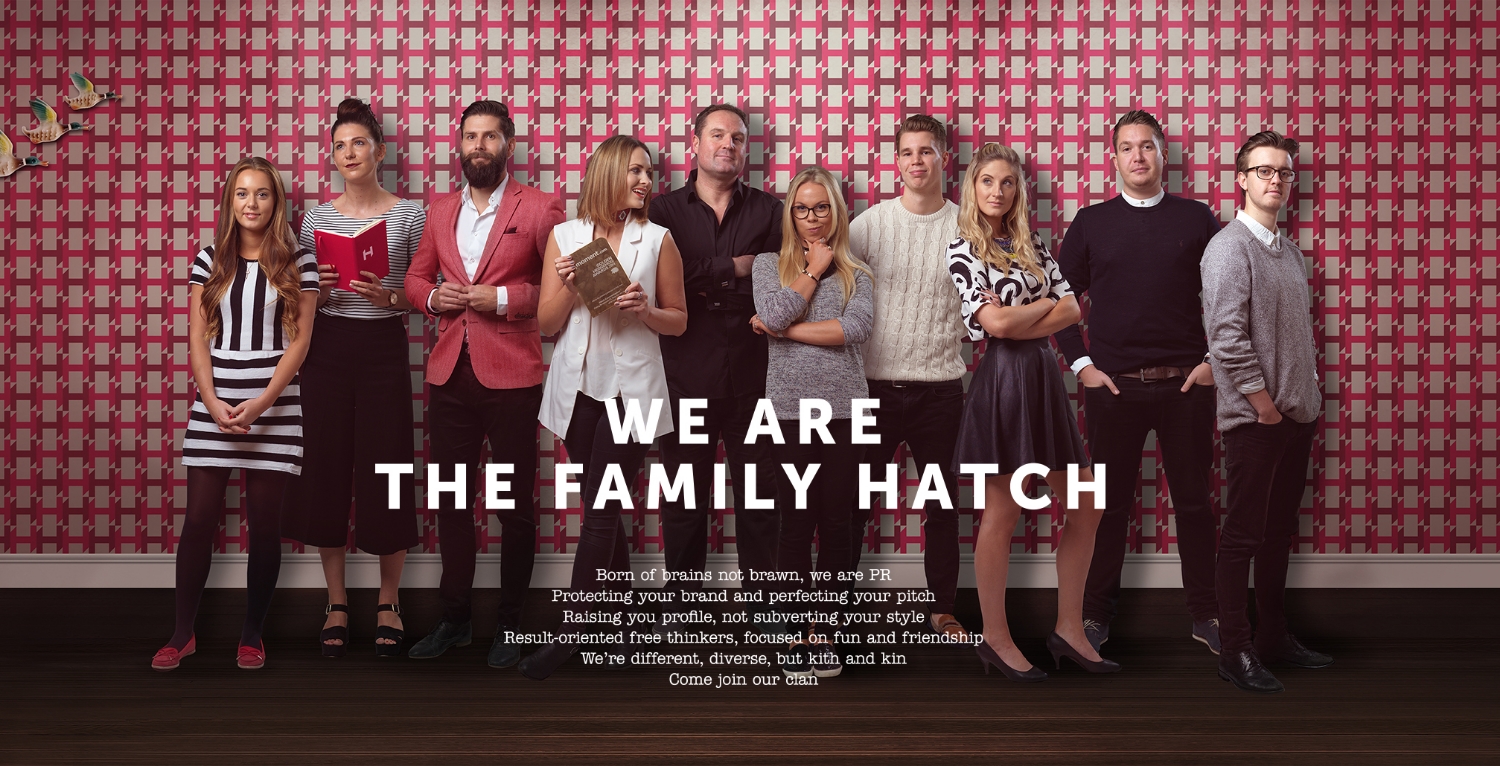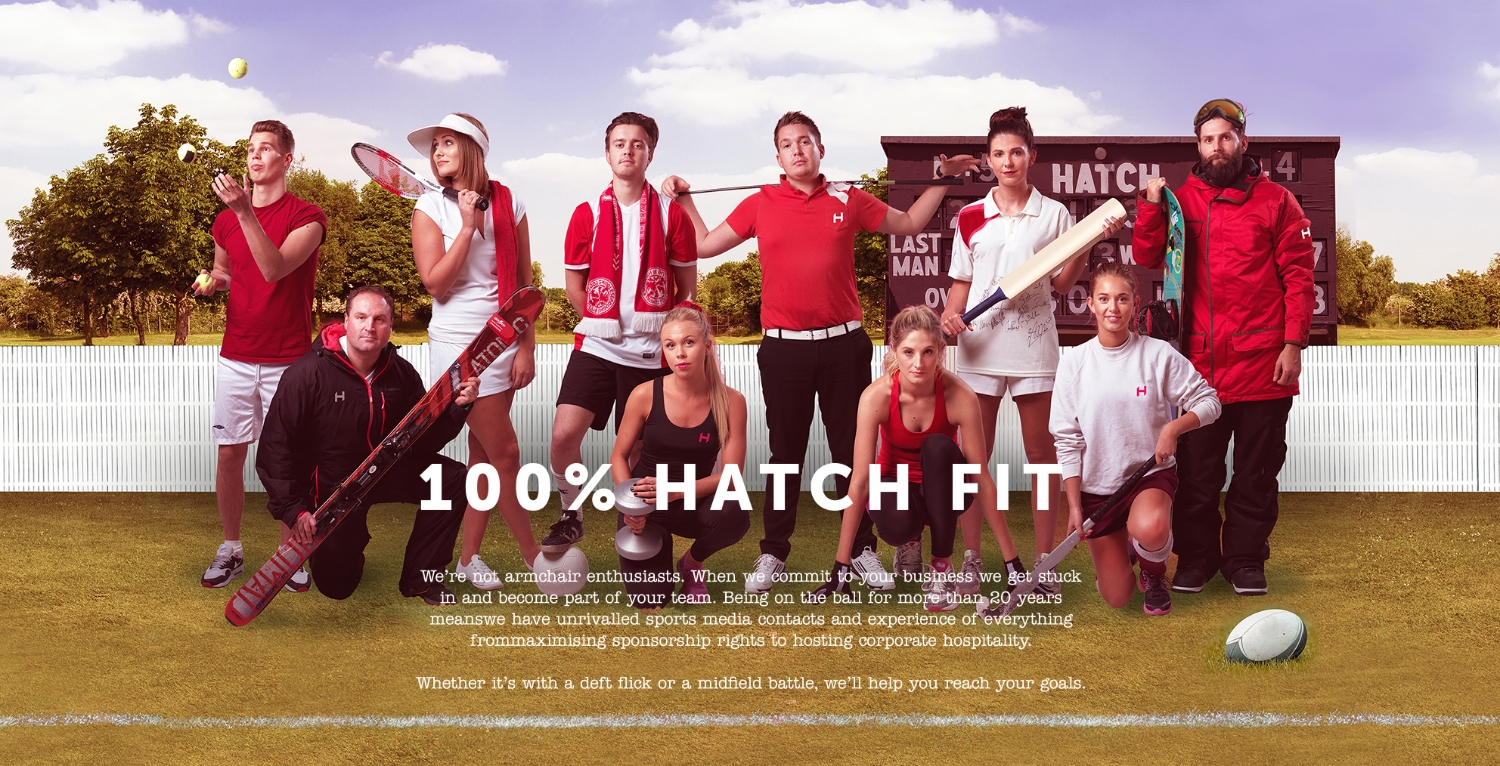 HATCH COMMUNICATIONS
PR company Hatch required a full rebrand, including visual identity, brand philosophy and a new responsive website. We provided several routes before arriving at the 'We are the Family Hatch' rebrand. This focused on the agency's people, with a fun and friendly attitude. We used striking photography to showcase personalities and different aspects of the team's work (sport, social media and events).
We also created an individual brand for each team member (that fitted within the brand as a whole) for business cards and presentations. This made sure everyone was engaged in the rebrand process and gave each team member a sense of ownership.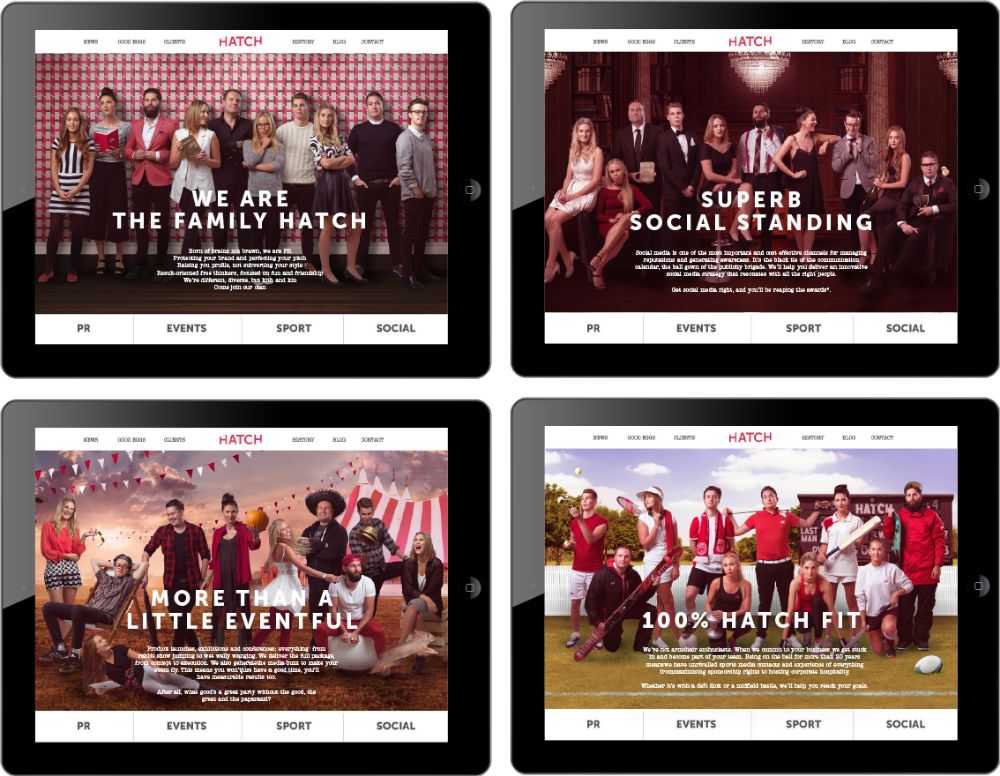 HATCH WEBSITE
The website we designed and built consists of four separate homepages, each targeting one of Hatch's four main disciplines. We dressed the team up accordingly!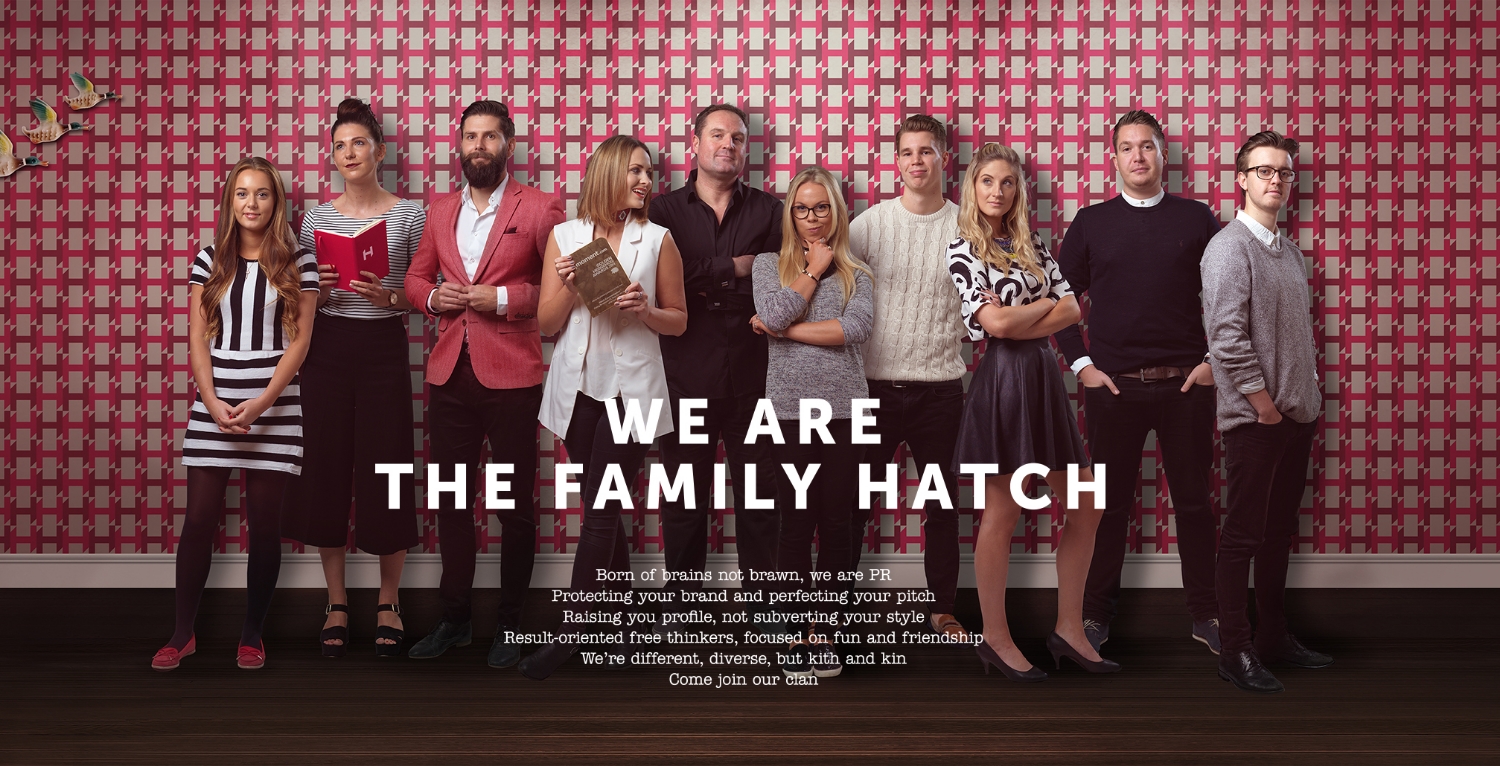 HATCH HOMEPAGE (PR)
Born of brains not brawn, we are PR
Protecting your brand and perfecting your pitch
Raising you profile, not subverting your style
Result-oriented free thinkers, focused on fun and friendship
We're different, diverse, but kith and kin
Come join our clan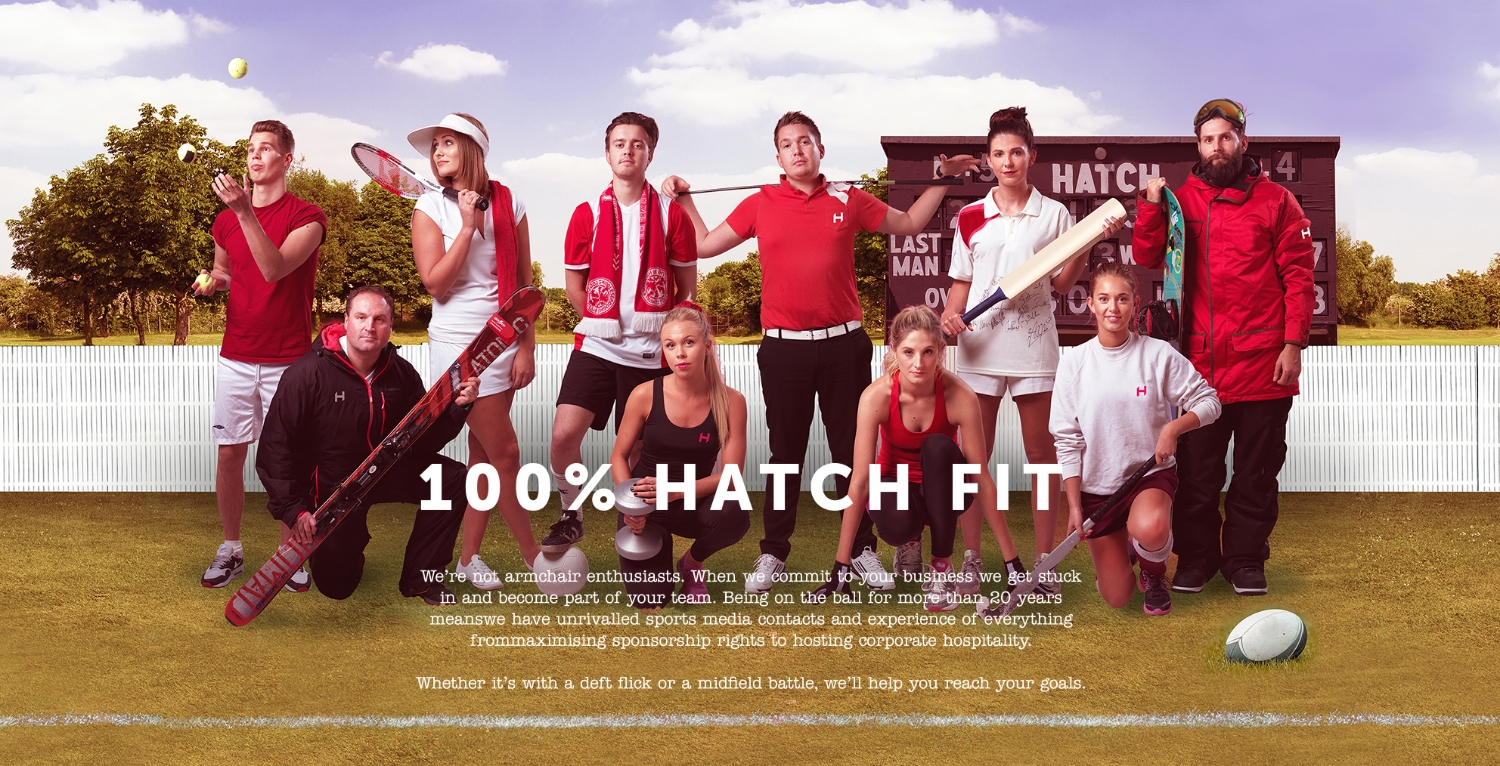 HATCH HOMEPAGE (SPORT)
We're not armchair enthusiasts. When we commit to your business we get stuck in and become part of your team. Being on the ball for more than 20 years means we have unrivalled sports media contacts and experience of everything from maximising sponsorship rights to hosting corporate hospitality.
Whether it's with a deft flick or a midfield battle, we'll help you reach your goals.
HATCH HOMEPAGE (EVENTS)
Product launches, exhibitions and conferences; everything from rabbit show jumping to wet welly wanging. We deliver the full package, from concept to execution. We also generate the media buzz to make your event fly. This means you won'tjust have a good time, you'll have measurable results too.
After all, what good's a great party without the good, the great and the paparazzi?
HATCH HOMEPAGE (SOCIAL MEDIA)
Social media is one of the most important and cost effective channels for managing reputations and generating awareness. It's the black tie of the communication calendar, the ball gown of the publicity brigade. We'll help you deliver an innovative social media strategy that resonates with all the right people.
Get social media right, and you'll be reaping the awards.
HATCH POWERPOINT TEMPLATES